Get back on your Skis... before everyone else!
Fancy a ski session? Don't miss the opening of the glacier!
Some of the world's greatest athletes and champions to be will be training alongside you, preparing for future competitions on the dedicated race pistes.
opening from 17/10 to 28/10
Closed from 29/10 to 01/12 at least
Ski area will be open from 8:30 to 15:45

Funiculaire First lift up at 8:30 / Last fift down at 16:05
Panoramic chair lift
Champagny lift
Termignon lift
Vanoise chair lift
Cable car
Tracks accessible to the general public:
Black slopes: Descente (lower part)
Red slopes: Glacier (lower part), Rimaye, Face
Cross-country ski loop (skating)
The 3500 and Champagny stadiums will be reserved for ski clubs

SANITARY PROTOCOL
In addition to the usual barrier gestures, here are two pieces of information to remember:
Mask or approved neck strap compulsory in queues and on ski lifts
No limitation of access to the ski area
FURTHER INFORMATION :
Panoramic restaurant bar and self-service will be open from October 17, 2020
Grande Motte picnic room closed
Toilets in the Grande Motte picnic room open
Toilets at the departure of the funicular open
Lifts and slopes opening
Forfaits
* Depending on snow condition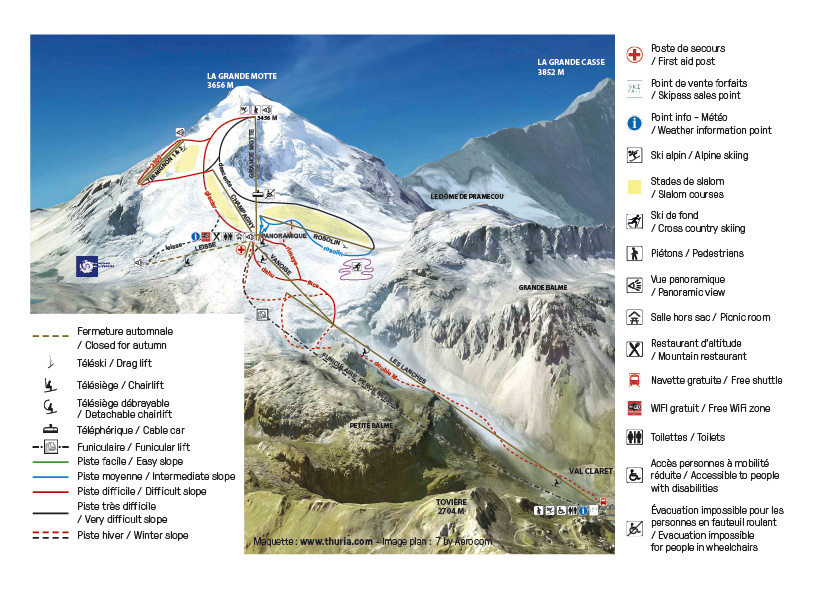 Click on the map to watch a bigger version.
Rimaye, Dahu and Face pistes and Vanoise chairlift: opening in autumn, as soon as the snow conditions allow it.
Double M piste and Lanches chairlift: opening late autumn, as soon as the snow conditions allow it.
Leisse piste and Leisse chairlift: opening in winter, as soon as the snow conditions allow it.

Pedestrians
First funicular ascent: 8:30 a.m. / Last ascent: 2:30 p.m.
From 10/17 to 10/23 included: Grande Motte round trip price = 12 € / adult-senior and 10 € / child
From 10/24: Grande Motte round trip price = 20 € / adult-senior and 16 € / child
STGM point of sale HOURS
From 17/10 to 27/11 :
The Grande Motte point of sale will be open every day from 7.45 a.m. to 2.30 p.m.