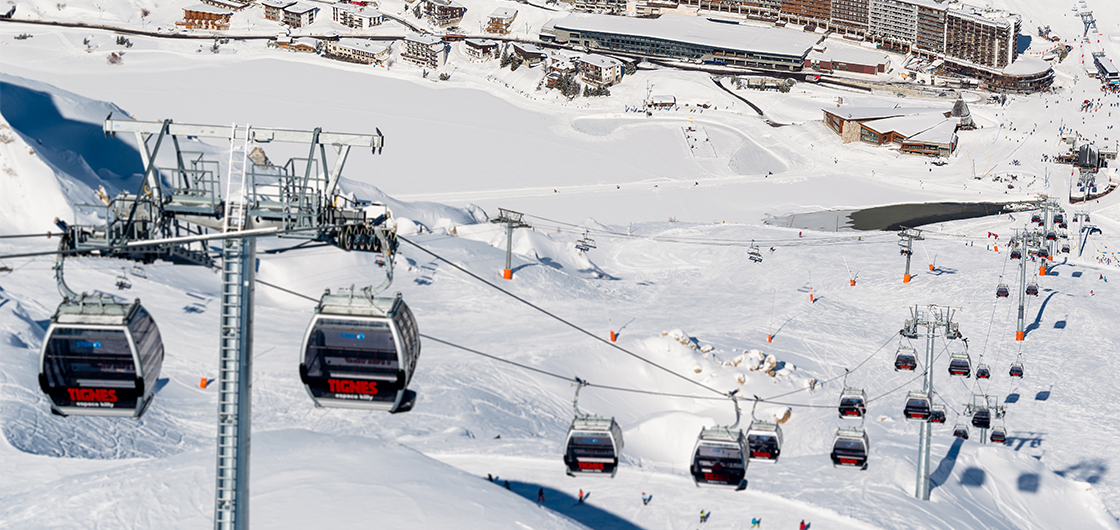 Tignes is firmly committed to sustainable development
Holidaymakers, athletes, mountain professionals, seasonal workers... All these "Tignaddicts" have one thing in common: an ever-lasting love story with the mountains. That is why Tignes invests in sustainable development. In September 2015, these efforts were rewarded when Tignes obtained the Green Globe certification for sustainable tourism. Focus on a « Green » Tignes.
What is the GREEN GLOBE certification?
It is an international certification programme that rewards companies and organizations in the tourism industry who are committed to making positive contributions to people and the planet.
This certification includes 40 thematics, with more than 300 requirements (mandatory or optionnal) covering different topics such as the protection of the environment, the management for a sustainable development and the support towards local industries.
That programme is based on three pillars of sustainable development:
Economic:

in order to ensure a sound, sustainable and prudent management without prejudice for the planet and humanity.

Social:

to provide the housing need of the employees, and reduce inequalities between individuals with respect for their culture.

Environmental:

by conserving natural resources and limiting the impact on the environment.
BUT WHAT DOES IT MEAN, PRATICALLY SPEAKING?
Between 2016 and 2017, the STGM (Société des Téléphériques de la Grande Motte) was committed for a cleaner ski resort by working on 3 fronts:

Various measures were adopted like:
- ski pass recycling
- waste sorting (iron, papers, batteries...)
- free distribution of pocket ashtrays
- eco-responsive products are used whenever it is possible
- awareness of environmental problems for employees
- cleaner electric equipment ...etc
What about 2018?
It's growing!
With a cleaning station project to retrieve the polluting substances of combustion engine vehicle of the ski resort. During the cleaning of the machines, the supplied water will be filtered to retrieve pollutants (oils, hydrocarbons, ...). The goal? No rejected pollution!
The STGM is also concerned about its carbon emission and participates to the

Reforest'action

programme to plant 140 trees. It represents: 280 animals shelters, 560 months of oxygen generated and 140 hours of work to be created.
Did you know?
During the 2016 summer, a new lift was created, allowing to remove 2 ski-tows, which represent 3 towers, a departure and a terminal station. This kind of measure helps limitting the impact of the lifts on the landscape by reducing the number of towers.