Discover Tignes

Facilities

Wheelchair-friendly facilities
Wheelchair-friendly facilities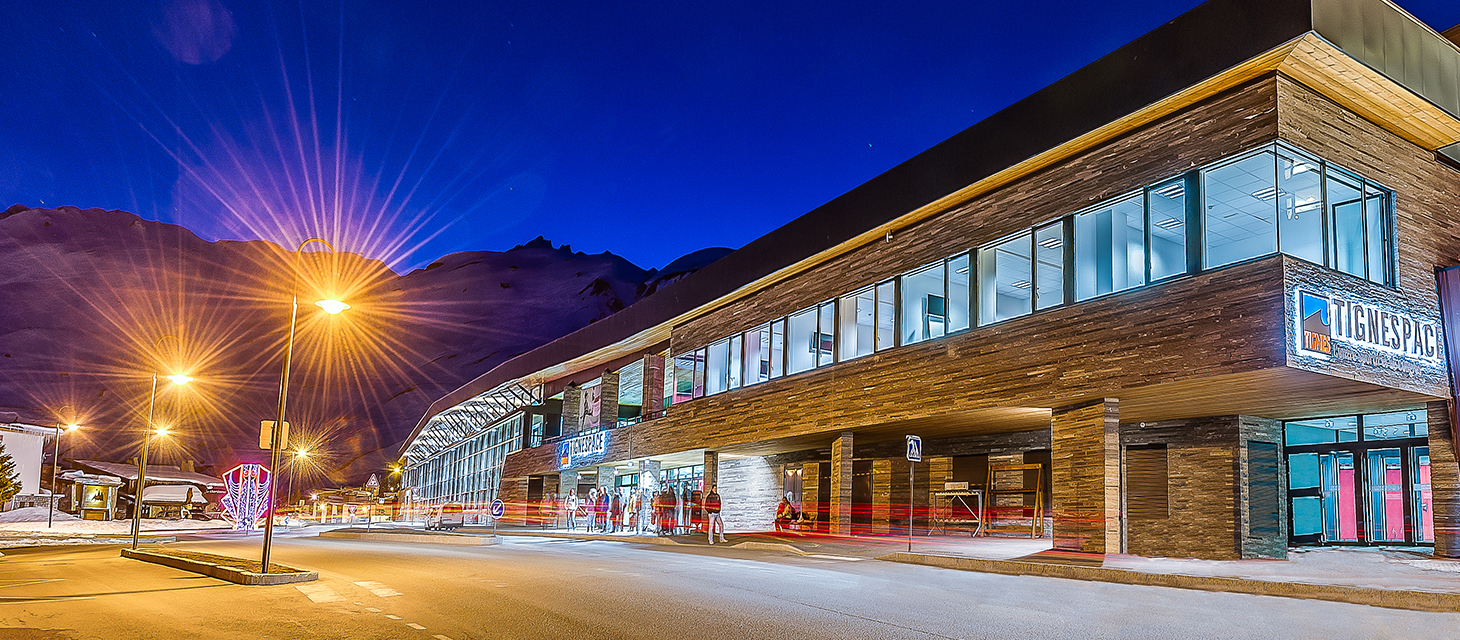 Maisons de Tignes - Tourist office
The Maison de Tignes le Lac, Val Claret and 1800 are accessible to PRM.
The Maison de Tignes le Lac also offers disabled skiers the chance to drop off their wheelchair and/or wheelchair-ski free of charge during opening hours.
In order to offer proper comfort zones and comply with the Law of 11th February 2005 offering access to buildings for those with disabilities, the resort has already carried out numerous modifications to make its facilities accessible for people with disabilities and is continuing to do so.
The aqua centre, Le Lagon
Le Lagon is a swimming and well-being centre with a 25-m swimming pool, one third of which is just 1.25m deep, a recreational pool with a 3-lane waterslide, a fun pool, bubble bench, geyser, swimming against the current, waterfalls and also a paddling pool with a mini-4 slide, mini-aerobath and a toadstool fountain.
Le Lagon also offers a Wellness area with steam room, Jacuzzis, saunas, fun showers, indoor and outdoor terraces as well as a gym, weight-training area, cardio training area, stretching and exercise studio etc.
Le Lagon in Tignes is a modern, spacious and light-filled building built following the Law of 11th February 2005 (in 2006) and complies with accessibility standards.
Suitable for: those with motor disabilities (can come on their own), sensory and intellectual disabilities (must be accompanied)

Parking and bus travel: Le Lagon in Tignes has a disabled parking area and a shuttle bus stop close to the entrance.

In summer, the paths outside the building are wheel-chair-friendly.
However in winter, the snow makes wheelchair access difficult without assistance. If you require help, please do not hesitate to phone Le Lagon and staff will come and help you into the building.
Reception: Inside the building, the reception desk has a lower section for those in a wheel-chair.

Toilets: Disabled toilets indicated by pictograms are also available in the lobby.
Changing rooms: Wheelchair access to the changing rooms is via special electric doors. These are operated by reception staff accompanying a person with disabilities if required. The changing rooms are mixed and 7 out of 27 are wheelchair accessible. A member of staff is always present in the changing area.
Passageways: passageways inside the building are wide and wheel-chair-friendly.
Footbaths: All footbaths, one of which accesses the lawn area, are on a gentle slope and can be used by wheel-chair users or those with reduced mobility.
Adaptive sports equipment:

Aquatic Wheelchair: Le Lagon has two aquatic wheelchairs that can be submerged in the water and used to move around the pool area. The user can also use his or her own wheelchair to access the pool to limit transfers (these can be carried out by lifeguards on request if necessary).
Hydraulic Lift: The site also has equipment to lift people into the water or help with swimming: a hydraulic lift that can be used for all the pools, including one of the Jacuzzis in the Wellness area.
For more information:
The sports and conference centre, Tignespace
Tignespace is an indoor sports and conference centre that was renovated and extended in 2013 to comply with accessibility standards of the Law of 11th February 2005. It is a multi-functional complex with state-of-the-art facilities that welcomes high-level sportsmen and women, groups and conferences as well as the general public.
Tignespace offers access to a team sports area (basketball, handball, volleyball, badminton, tennis, futsal), an athletics zone, a weight-training room, 3 squash courts, an officially-recognised climbing wall and 2 multi-functional rooms (dance, fencing, martial arts, yoga etc.).
Suitable for: those with motor disabilities (can come on their own), sensory and intellectual disabilities (must be accompanied)

Parking and bus travel: Tignespace has several disabled parking spaces in the underground Tignespace carpark and there is a bus stop right in front of the centre. Some of the free resort buses have wheelchair ramps.
Access and passageways: People using wheelchairs can move around the entire building independently and access the wheel-chair-friendly reception desk.
Toilets and changing rooms: Disabled toilets and changing rooms indicated by pictograms are also accessible on the same level.

Lifts: Inside the building there is a lift providing access to the squash courts and climbing wall. The lift is equipped with oral announcements and the buttons are identifiable with numbers that are raised and in braille.
For more information: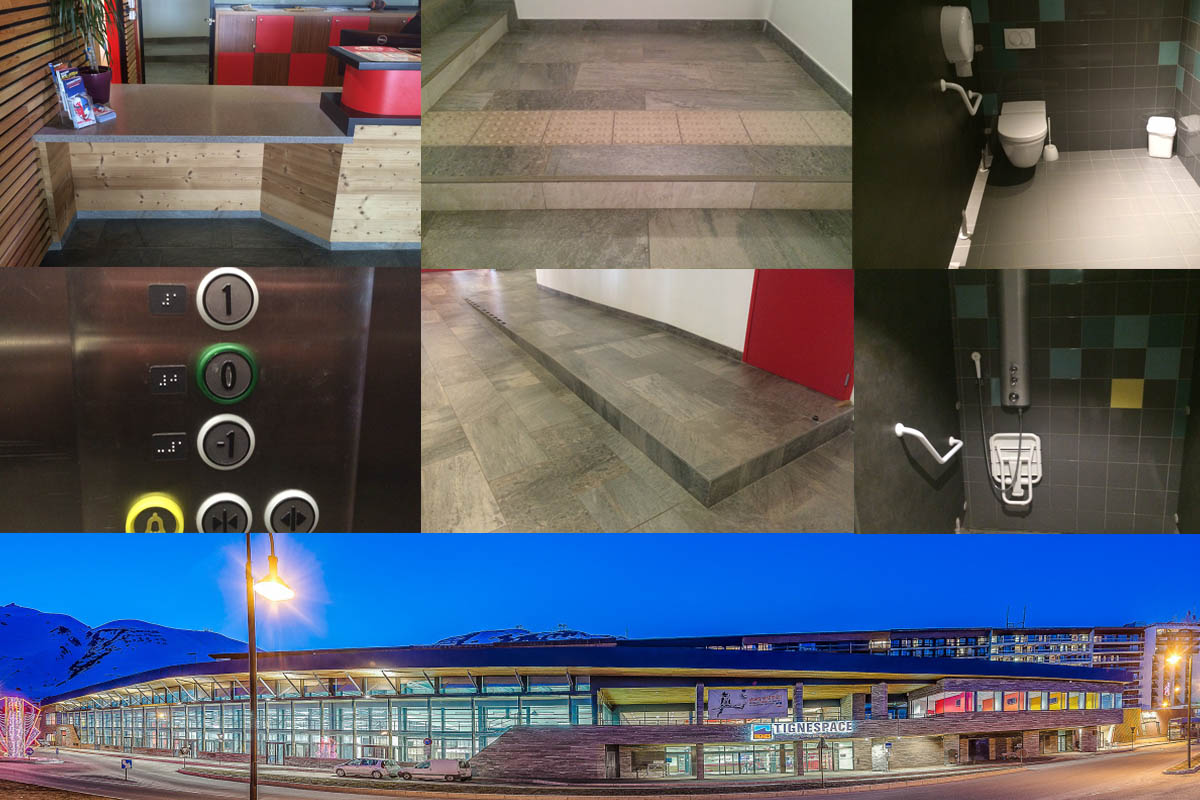 Car parks accessible to everyone
Tignes is committed to its car parks and services being easily accessible to everyone.
To improve conditions in its indoor car parks, Tignes has created reserved parking spaces offering simple and quick access, close to lifts or exits that are easy to use.
In total, 29 disabled parking spaces are available in the indoor car parks in Tignes:
Lac car park 1: 2 parking spaces - Level 0
Lac car park 2 : 5 parking spaces -Level 0
Lac car park 3 : 7 parking spaces - level 0 & 4 on level -1 with access to the lift
Lavachet car park : 7 parking spaces - level 0
Golf car park : 8 paking spaces - level 0, 6 parking spaces level 1 & 2 with access to the lift
In addition to this, several car parks in Tignes ( parkings de Tignes, Lac3, Lac1 et Golf) have lifts that provide aboveground access making journeys for those with reduced mobility smoother and easier.