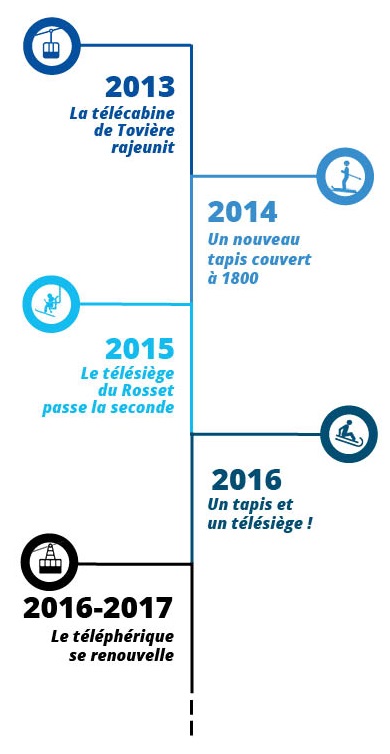 *****
[ FOCUS on... ]
the funicular

:
choose your MeTRO !

Do you know on your fingertips all the train station between your home and your office? In Tignes, there is just one stop that takes you as close to Heaven as one can get! It only takes 7 minutes to the funicular topropel you from the Tignes Val Claret snow front (2.100 m) to the terrasse of the Panoramic restaurant at 3.032 m. Sunbathing and enjoying a hot chocolate, or rushing towards the pistes or the cable car: your choice!

Did you know?
It took almost 4 years to finalize the construction of the funicular, that carried its first passengers in April 1993.
The Perce-Neige funicular can transport up to 3000 persones per hour, to a speed of 12 meters / second.
The supplying of the Panoramic restaurant (located at the arrival of the funicular at 3.032m) in water and electricity goes through the funicular tunnel.
*****
Tignes does not just invest in lucrative lifts : in the last few years, free and beginners'areas have been maintained.
2013: the TOVIÈRE cable car
the new Tovière cable car (the 4th generation of cable car to replace the Aeroski) guarantee now the liaise with Val d'Isère in 5 minutes and in lighting cab of 10 seatings (3 300 people/h).
2014: A new magic carpet at 1800
Le tapis couvert des Boisses a vu le jour ! Il a d'ailleurs permis la mise en place d'un espace débutant et gratuit à 1800. On en compte un dans chaque quartier de Tignes depuis.
2015: THE ROSSET chairlift will accelerate
Le vieux télésiège du Rosset en place depuis 1985, a laissé place à un appareil neuf. Un investissement doublé d'un tapis roulant permettant d'enchaîner ses premiers virages en toute sécurité. Parfait pour débuter !
2016: a magic carpet and a chairlift
Le long de la piste Henri revue et corrigée a été installé un tapis roulant, le bien-nommé tapis du Val Claret. Cette même année, le télésiège des Almes, situé sur le front de neige de Tignes le Lac, est venu remplacer l'ancien téléski éponyme. Une "desserte" propre" et gratuite.
2016-2017: Renewal for the cable car
2016 et 2017 ont vu la rénovation du téléphérique (changement de câbles, de motrice...).