SECURITY RULES
The trails are open to mountain bikers under their own responsibility.
Tignes, Val d'Isère, the STGM and the STVI cannot be held responsible for any possible injuries caused to the mountain bikers.
HELMET IS COMPULSORY!
MTB trails offer technical difficulties and ask for a specific equipment. Helmet is compulsory and protections highly recommended.
The Cross-Country, Enduro and downhill trails are meant to be ridden with MTB especially deviced for mountains. For safety reasons, all other kinds of bikes are forbidden, as well as all motorized vehicles.

REFER TO THE SIGNS!
Refer to the signs and keep to the defined tracks without cutting corners and the bends of the track.
The practice of mountain bike is forbidden in the Vanoise national Park. More info: refer to the local law.
MIND THE PEDESTRIANS!
Pedestrians have priority on the "all mountain" and cross-country trails. Stop and let them go first. Be careful when you cycle in the resort.

MIND THE HERDS!
Ride slowly when you cross herds.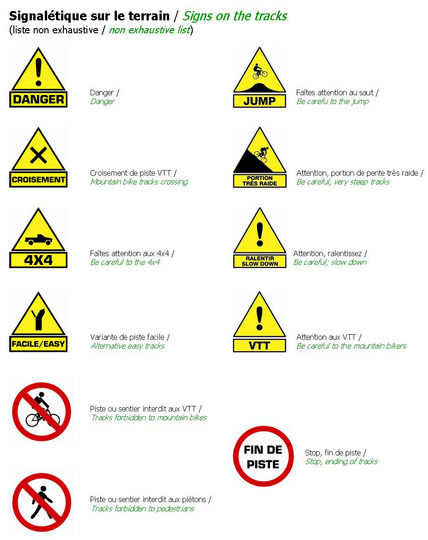 BIKE PATROL, THE NEW JOB ON THE GO!
In the same way that the ski patrols work on the ski area in winter, Bike Patrol swaps skis for Kona mountain bikes to patrol the Bike Park.
In Tignes,
the Bike Patrols are there to welcome, advise and direct you, preparing and marking the Bike Park tracks as well as maintaining them
.
Problems, questions or advice… Tignes' Bike Patrols are around all summer to help you take full advantage of the
Bike Park
.