Activities

leisure

Tignes Multimedia Centre
Tignes Multimedia Centre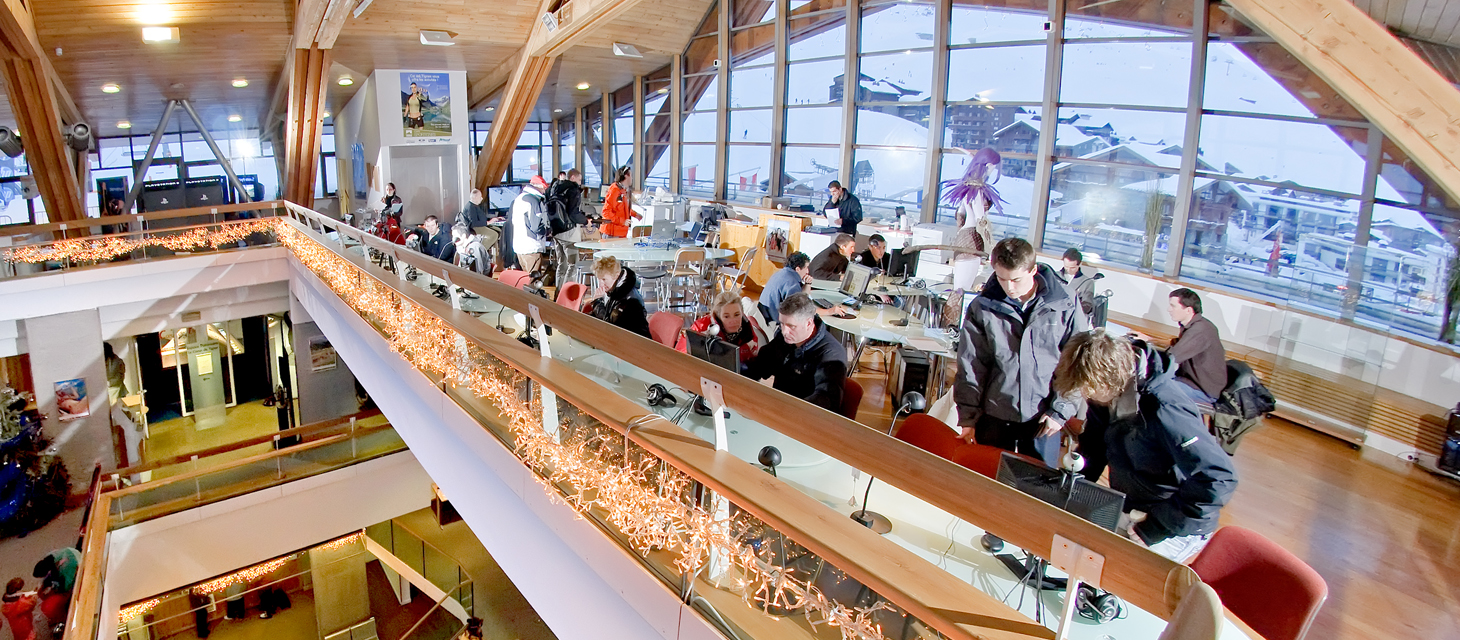 WELCOME TO THE TIGNES MULTIMEDIA AREA!
In a pleasant setting with a 360 view of the resort, come and discover our new products for young and old. Alone or accompanied, with family or with a group of friends, come relax and have a good time.
opening dates & times
From 17/12/2022 to 06/05/2023
> The Multimedia Space is open from Tuesday to Sunday from 14:30 to 19:00
CLOSED ON 01/05
STAY CONNECTED
Ideally located on the mezzanine level of the Maison de Tignes le Lac, just above the tourist office, the Tignes Multimedia area offers many activities for young children and teenagers. Are you looking for an indoor activity? The Tignes Multimedia space provides board games for the whole family (Dixit, Time's Up, 7 families game, wooden puzzles, etc.), as well as computers for playing a wide range of video games online ( Minecraft, Counterstrike, Fortnite…).

Young children will appreciate the library corner for a quiet time between two sporting activities, while teenagers and adults will take advantage of the free wifi to check their e-mails, share their holiday memories on social networks (#tignes), or even even revise or work just a little with a breathtaking view of the mountains for the more studious.

Does the weather forecast predict rain or a snowstorm during your vacation? Do not panic ! In winter as in summer, thematic events and exhibitions are regularly organized at the Espace Tignes Multimedia. Ideal for occupying a less sunny day (or practicing a quieter activity after a day on the ski or mountain bike slopes). Consult the programme of activities in Tignes.
SOCIETY GAMES
Is the day gloomy? We have it all planned! Come and share one of our many board games: Doodle, Jungle speed, Timeline, chess, Unlock, Dixit, Time's up, Carcassonne, puzzles ... In total, twenty games for all ages.
Free. A deposit will be ask. On site only.
LIVING ROOM
Want to relax in an armchair after your exploits of the day? Come and discover the short films made during the Tignes Awards Festival!
LIBRARY AND "CHILL" CORNER
Make yourself comfortable and immerse yourself in your favorite book. Our selection: Novel, thriller, comic strip, manga, mountain, outdoor, fiction ...
THE GAMEURS 'CORNER
Minecraft, Counterstrike, Dofus, Wow, Fortnite, LOL and more are waiting for you.
> 1h : 5,00€
> 2h : 9,00€
> 3h : 12,00€
> Day (6h) : 15,00€
> Week (7 jours) : 40,00€
> Network games evening (3h) : 13,00€
COWORKING / TELEWORKING SPACE
An emergency at work? Or have you just decided to telecommute with a mountain view? We provide a wifi terminal and electrical outlets for your comfort.