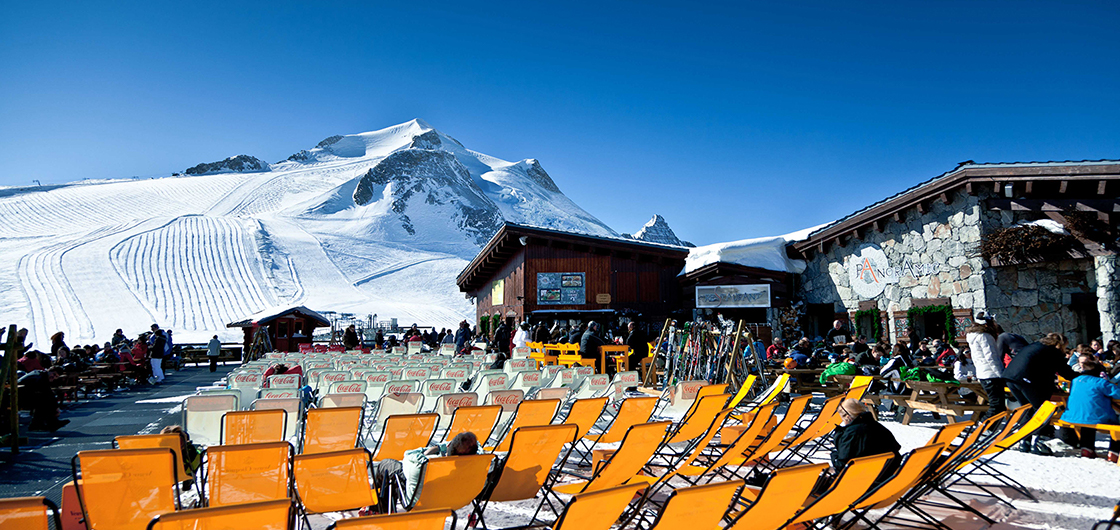 Dishes packed full of local flavours !
Eating local produce for you is:
A journey! You make it a point of honour to ONLY have a fondue when you go skiing…
A philosophy! You never miss a fruit and vegetable box delivery
A discovery! You love a foray into the "local produce" aisle at the supermarket and the more unusual the label, the happier you are!
Good news: the restaurant owners in Tignes share your taste for regional gastronomic adventures.
So, pay attention locavore friends: this should satisfy your culinary cravings…
The search for exceptional ingredients
A plate of cold meats with a pre-dinner drink, speciality cheese dishes or "crozets" pasta gratin accompanied by a Savoyard wine after a long day on the slopes, blueberry tart and artisan ice cream for a treat… Savoyard cuisine is a huge part of a holiday in the Alps. A ski holiday without a fondue? Inconceivable!
In actual fact, we are spoilt for raw materials here: how could you resist the milk of the Tarine and Abondance cows that graze mountain pastures during the summer? Or the truly delicious honey, apples, mushrooms and mountain herbs?
Plenty of inspiration for the talented chefs in the resort, who like nothing more than transforming these little gems into an explosion for the taste buds. When we love something, we love to share it!
A SHARED PASSION
Restaurant owners will travel the region in search of passionate suppliers who share their love of great ingredients and exceptional dishes, to unearth tasty delights destined for your plate.
A good dish is created in two stages:
First, there is a meeting with the supplier. The produce is discussed and tasted of course. If the perfect cocktail of "taste + quality + philosophy" is there, then it's a winner!
Then comes the moment of transformation in the kitchens. Restaurant owners become intermediaries or teachers in a way, as they showcase locally-sourced ingredients to their customers. After all, when you know where and how your ingredients were produced, and you've met the producer, you have lots to say about what's in a dish!

«Meet the producers is all about seeing the producer behind the ingredient and the products they have on offer. [...] We know where it comes from, we know what we're selling [...] so we can tell our customers too!»
Alexandra at the Restaurant "L'Arti" in Lavachet
We Understand our fellow foodies!
And proximity facilitates these meetings. Our goal: to continually improve the product that will be served to the discerning gastronomes who visit our restaurants.
Need a particular variety of apple for a tart? A certain type of bread for a burger? Looking for a special flavour for a hot chocolate? Or a very specific cut of meat for a signature dish? The relationship of trust that is established over the years between a chef and their suppliers allows them to share rare, even specially-requested ingredients, created by the chef and the supplier.
Jean-Michel Bouvier, , from "Le Panoramic" mountain restaurant: "I have been working with the same suppliers for 25 years now. I met them well before I arrived in Tignes, when I had my Michelin-starred restaurant in Chambery. We share the same demand for quality, the same ethic"..
Cédric Lemaître, restaurant le Tummy (Val Claret) : « notre chocolat chaud est fait maison, avec du cacao en provenance d'un maître chocolatier basé à Voiron, en Isère (Maison Bonnat). Nous avons choisi le cacao sur échantillons, jusqu'à trouver celui qui nous semblait le plus adapté aux goûts de notre clientèle et qui répondait à notre niveau d'exigeance. Rien à voir avec du chocolat en poudre trop souvent utilisé, composé de lait déshydraté, de cacao et de sucre ! ».
The (not so) secret destinations to visit:
The Chevallot bakery, in Tignes
Le Local du Bocal, in Séez (anciennement "le père rullier)
The Coopérative Laitière in Bourg-Saint-Maurice
And on your journey home, why not stop near Chambery to taste some cheese of Bernard Rebotton, some delectable cuts of meat from Patrice Arnaud, fish from Philippe Nadaud, caught in the Bourget's lake, and fruits from La Motte Servolex.
L'ANECDOTE EN +
Le saviez-vous ? Jean-Michel Bouvier achète l'intégralité de la production de miel de Jean-Pierre Favre, un produit 100% « made in Tignes ». Vous avez dit local ?
Le Restaurant L'Arti Le restaurant Tummy Le restaurant Panoramique
au coeur du Lavachet au Val Claret au pied du Glacier de la Grande Motte