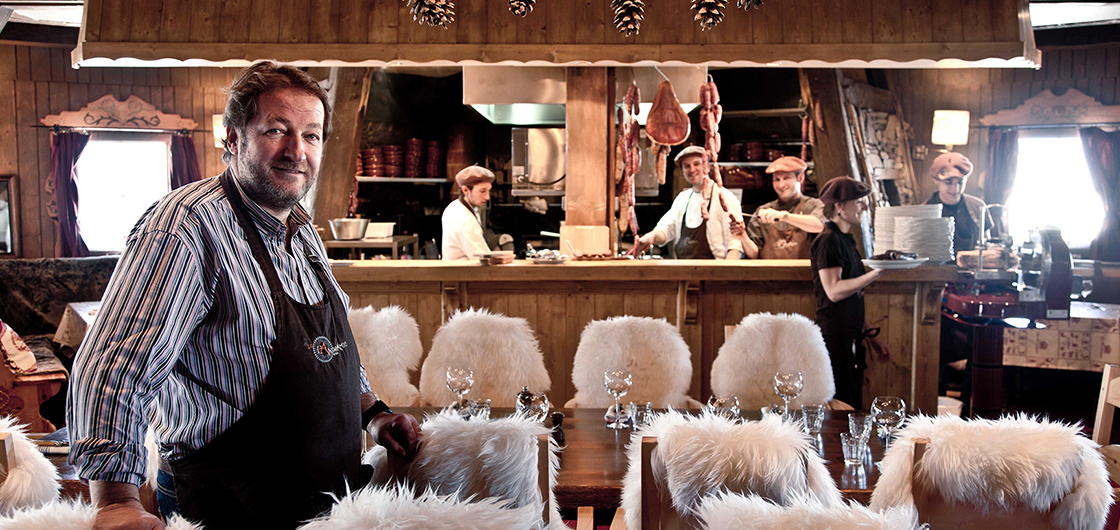 A day with... Jean-Michel Bouvier!
In 15 years, Jean-Michel Bouvier's restaurant has become the place to go for foodies in Tignes. Founder of the Chalet Bouvier restaurant (he took up the reins again with his daughter in the autumn of 2017), before opening La Table en Montagne and mountain restaurant, Le Panoramic, this devotee of great local produce flies through each season at 100 miles an hour!
Trained under Jean-François Piège and Michel Guérard, awarded two Michelin stars when he was at the helm of "l'Essentiel" in Chambéry, this chef with a passion for Savoyard produce has no intention of stopping there. Whilst his son, Clément, is preparing to follow in his father's successful footsteps with his new concept, "Ursus" at the Suites du Nevada, Jean-Michel Bouvier has returned to his beloved Chalet Bouvier. New name ("La Table de Jeanne"), new concept (an open kitchen), new menu: a new destination to add to the repertoire of epicureans everywhere.
We met with him over a waffle with his permanent sidekick: the very photogenic Bernese Mountain dog, "Igloo".
Best way to start the day:
With a coffee! With scrambled eggs, ham or toast with homemade jam when I have time!
Exercise break:
Clearing snow from the terrace of the Panoramic* in the morning! When nearly 2 m of snow has fallen during the night, getting to door of the restaurant feels like an assault course…
Favourite part of the day:
At 5pm, when the terrace of the Panoramic becomes quiet and calm once again and we can enjoy a special moment as the sun sets… The calm after the storm!
MOsT STRESSful part of the day:
Just before the service, at about 11.30 in the morning. Is the weather going to stay mild? Are the ski lifts going to stay open? Is all the work that has taken place during the morning by the team (bringing up the fresh produce, preparing the terrace, the dishes etc.) going to be worth it? Will we have to send the 56 members of staff home?
Special MOMENT:
When customers come to congratulate the team after their meal. This is possible thanks to the open kitchen and is hugely uplifting.
coffee break with:
The other staff, to encourage cohesiveness and team spirit.
The day finishes at:
Around 12.30/1am. And yes, after a day at the Panoramic, it's time to go back down to Val Claret to supervise the evening service at La Table en Montagne**!
Last thing before uo go to bed :
15 minutes just for me, to catch up on news from friends and family and to see what's going on in the world on social media.
*Le Panoramic, mountain restaurant located at the top of the funicular at 3,032 m.
**La Table en Montagne: former restaurant at the Suites du Nevada***** (centre of Tignes Val Claret), became the gourmet restaurant "Ursus" in the autumn of 2017.