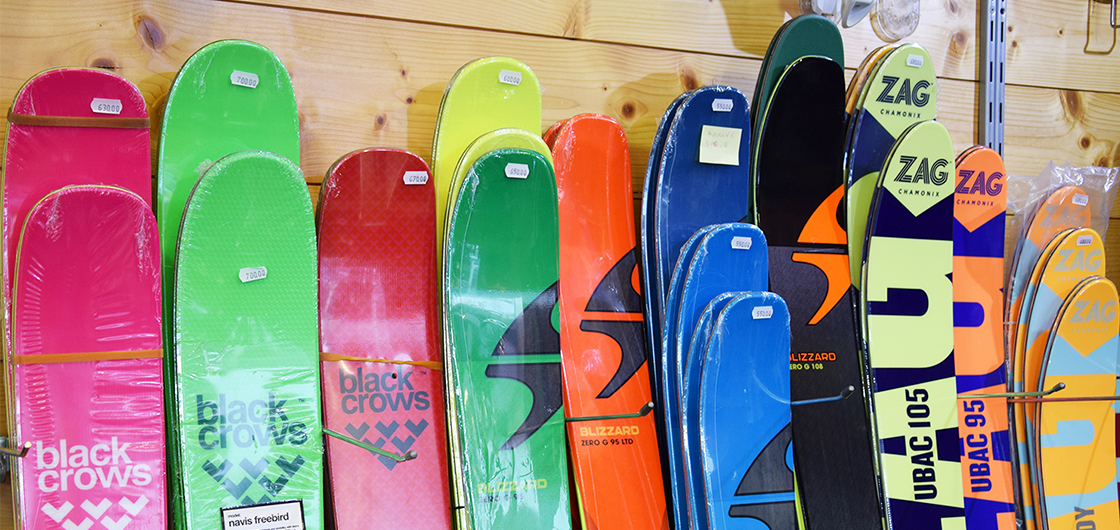 Ski touring: mistakes to avoid making when buying your equipment
Keen to go in search of untracked slopes, away from all the ski lifts? So why not give ski touring a try! Ludovic Faure* is passionate about this discipline that provides such a great sense of freedom. He is here to help you make the right decisions when it comes to satisfying your thirst for exploring wide open spaces in the best conditions.
THE first question to ask yourself: what do you want to do with your skis?
Pure ski touring, which is a gentle walk up and a gentle ski down. In this case, you need an all-round ski, a good compromise between uphill and downhill, so that you can enjoy skiing in varied conditions (including on the pistes)
Free touring, which is beautiful powder slopes with a relatively short walk to access them. For this you need a ski that is designed for the downhill, so weight won't be a big consideration.
Ski fitness, to maintain your trail or marathon running fitness during the winter. Here, you will spend more time going up than coming down, so choosing a light ski will be your priority!
This way you can narrow the choice to two or three pairs of skis that you can go on to test, ideally within a short time-frame so that you can make an objective decision in similar conditions (quality of snow, visibility, tiredness etc.).
New or second-hand?
Given the popularity of the discipline, more and more second-hand skis are becoming available.
Avoid making these mistakes:
Buying second-hand skis that are more than 5 years old. Equipment has evolved hugely over the last few years and you may run the risk of being unable to find replacement parts if your bindings were to break…
Choosing your bindings: it's all about consistency
There are two types of bindings: normal release mechanism (losing popularity due to the evolution in boots) and pin bindings. Remember to check the construction of your boots before making your purchase: it would be a shame to buy pin bindings then when they arrive, realise that your ski boots don't have the required holes for the pins to go in!
Your bindings should complement the qualities of your skis. So, avoid pairing heavy touring bindings with an ultra-light ski. Equally, there would be no point trying to make your fat skis lighter by using small bindings.
The final thing to consider: how easy it is to lift and lower the heel rise with your pole.
Then the only thing you need to do is decide whether you are pro ski stops or not. Advantage: as the name suggests, they stop the skis if your bindings release. Disadvantage: their weight.
SKI BOOTS: THE AREA WHERE YOU HAVE TO BE REALLY CAREFUL!
TRICKY Question: DO YOU REALLY Know your shoe size?
Ludovic Faure, Mountain Attitude : if a client tries on a boot and says, "These are so comfortable!", I always say to them, "In that case, they're not the right ones!".
We are often persuaded to buy boots that are one, maybe even two sizes larger than our normal shoe size. However, even a boot that is a half-size too big can turn your ski touring dreams into an uncomfortable experience. Blisters on the way up, lack of support (and therefore precision) on the way down: you will often be able to adapt to a bad choice of skis or bindings, but you will always bitterly regret choosing the wrong boots…
A ski boot has to work really hard. It may seem tight when you try it on in the shop, but it will adjust to your foot within a few trips. A good tip: keep your boots on for at least half an hour in the shop before making your decision.
A tip for ladies with small feet: if your shoe size is 22.5 or less, think about reserving your boots a season in advance. Then the shop will be able to order them in for you and make sure you get a pair as the manufacturers only make a limited number of small-sized boots.
TOURINg or free touring ?
We choose our ski boots like we choose our skis: depending on what we like doing. If you veer towards long runs with lots of vertical climbs, you should choose a light ski boot. If, on the other hand, you prefer relatively short walks followed by long descents, you will need boots that are comfortable on the way down, with lots of support. There is an enormous choice these days. Don't hesitate to ask a specialist: they will be able to help you solve your dilemmas!
DID you know ?
If there are three types of sole thickness (alpine, grip walk and WTR), it's not the case with boot flex. Not only is it different from an alpine boot, but it varies from one make to the next. To such an extent that the majority of manufacturers don't concern themselves with the flex rating for pure ski touring, and less and less in free touring.
Nylon, mohair, combination: choose the right skins
100% nylon: to get you started if you are on a tight budget. Good grip on the way up.
Mixte (approximately 65% mohair and 35% nylon): a good all-rounder, for regular ski tourers. Good slide on the ski down and good grip on the way up.
100% mohair: for competitors or skiers in search of performance. Less grip on the way up, good slide on the ski down. Advantage: these skins take up minimal space in your rucksack. Disadvantage: they wear out more quickly…
When it comes to choosing between skins with or without glue, the best thing is to ask a specialist for advice. Looking for skins to use every day? For competitions? For trips in extreme conditions? They will be able to advise you on the best option for your needs!
let's talk money: how much do they cost?
It's not a secret: investing in ski touring equipment is another level up from alpine skiing.
Expect to pay around €350 for a pair of boots (entry level) to €700 (top-of-the-range). The difference in price comes down to materials mostly (e.g. plastic VS carbon).
For a pair of bindings, expect to pay between €300 and €600 depending on the model.
The price range is reduced for skis: in the general consumer range, there is generally only about 100 euros difference between a "beginner" ski (strengthened slightly or not at all) and a more advanced ski (stronger, therefore more challenging and more adapted to a strong skier).
It is easy to forget the skins and the cost is far from insignificant (€150 on average).
A good present idea for Father Christmas perhaps?
*Ludovic Faure, Mountain Attitude shop, freeride touring specialist