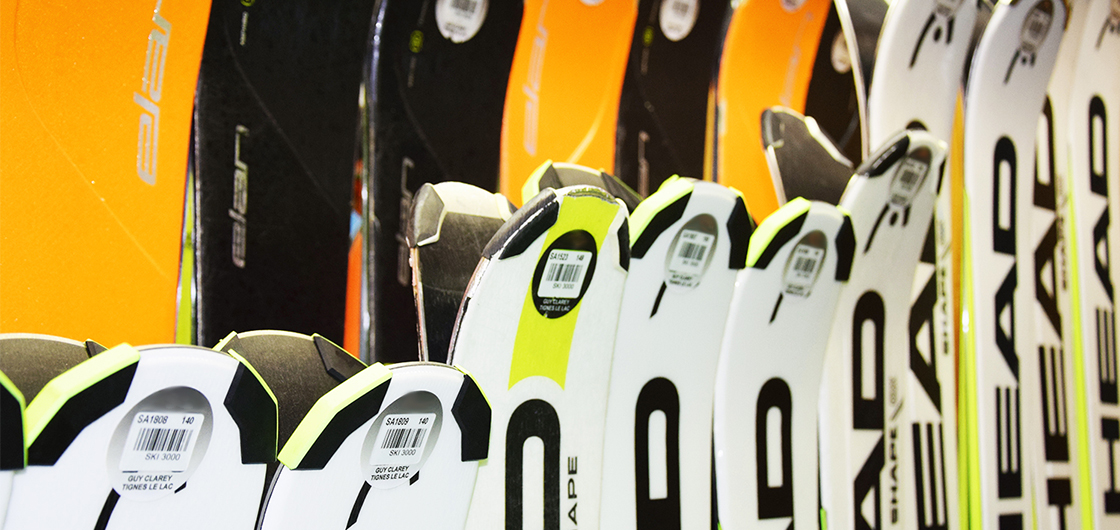 How to chose your ski equipment ?
Perhaps you no longer wish to hire your ski equipment or perhaps your current skis have seen better days: you've made up your mind that this year, you're going to treat yourself to a brand new pair of skis! Before you break out the credit card, take a look at our advice on choosing your new ski equipment...
What you might be tempted to do :

What you should do :

Buy powder skis "because the photo on the advert is amazing" (despite the fact that you hardly ever ski off-piste)
Choose the same skis as Alexis Pinturault "because he's your hero" (despite the fact that you prefer gentle skiing)
Choose ski boots that are a size bigger than your normal shoe size ("So comfy! They're like slippers!")

Choose equipment suited to what you like doing
Choose equipment suited to your level
Choose equipment that is the right size for you.
THE RIGHT QUESTIONS TO ASK
1. How many days a year on average do I spend on skis?
100 à 150 : « I'm a ski instructor! »
A couple of weeks: « I go on a ski holiday at least once a year »
Less : «I go skiing every two or three years ».
The number of days, on average, that you spend on your skis each year is a good indicator: if you don't ski regularly, then it's worth hiring your equipment rather than buying it. This way, you will benefit from up-to-date equipment whenever you ski.

2. Where do you ski 90% of the time?
On piste? Off-piste? If you are buying skis, choose a pair that is best suited to the skiing you do the majority of the time. Do you normally ski on piste during the week and occasionally have a morning off-piste with an instructor? Then invest in some piste skis and hire some powder skis on the days you go off-piste.
If you enjoy skiing on a wide range of terrain, then all-mountain skis could suit you well. However, don't forget that an all-mountain ski will be a "good all-rounder" rather than being amazing in one or other discipline.
Do you ski on piste as much as you ski off-piste? Then you should consider investing in two pairs of skis for optimum comfort (grip or floatation) for all your sessions.
3. What is your actual ski level (not your imaginary level)?
Bad skis don't exist: just bad choices! And if you aren't enjoying skiing on your skis, then you may have overestimated your ability… A dynamic skier needs a responsive, stiffer ski. So, if you prefer gentle skiing, then look for skis with more flex, that aren't too long (5 to 10 cm less than your height is perfect for carving skis): in other words, skis "that turn by themselves" with which you will have lots of fun! After all, that's what holidays are for!
SOME EXTRA TIPS FROM
DAMIEN

, HEAD OF THE PRO DEPARTMENT (RACING AND INSTRUCTORS) AT HEAD
SKI BOOTS FIRST!
If your budget won't stretch to buying skis + bindings + boots + poles, start with boots. These are the most important thing! You will be able to manage with good ski boots and skis that aren't quite right for you, however, the opposite isn't the case.
However, don't be tempted by boots that are too comfortable when you first try them in the shop. By design, a ski boot isn't very comfortable! What you need from it is good support so that you can control your skis. Ski boots that are too big will cause problems (heels rubbing at the back, cramps, pain in the tibia etc.) and won't allow for precision in your turns. As a general rule, your toes should be able to touch the end of the boot when you are standing up but not when you have your legs bent in a skiing position.
BRUSH UP ON YOUR SKILL (AGAIN) !
Equipment is evolving all the time as well as the different types of skiing available. Did you learn to ski on long straight skis? Don't feel embarrassed about taking a few lessons to learn how to get the best out of your new equipment: with carving skis, we talk about carving turns rather than skiddy turns and we say goodbye to knees together, feet should actually be apart!
DON'T TRY TO MANY PAIRS!
The more you read about and test different skis, the more confused you will become. Limit yourself to two or three pairs, and make sure you test them over a short period of time. This way you can compare them properly in equal conditions (snow, fatigue, equal level of wear and tear on the skis).
CHECK YOUR BINDINGS !
If you are buying a new pair of boots but you are keeping your old skis, make sure that the height of your sole fits the bindings you already have. Otherwise you run the risk of your bindings not releasing properly if you fall…
LET'S TALK BUDGET…
How do you explain the price difference between two pairs of skis or boots from different ranges?
The construction of the ski :
Has the ski been made by hand, like a sandwich, using wood, metal etc.? There are 70 stages involved in making a ski!
Or has it been injected with plastic?
The materials used:
Is the plastic the boot is made from affected by the temperature? In other words, is the flex consistent or variable depending on whether you are in the shop or on the pistes in the middle of January or at the end of April?
Are the materials hard-wearing? Durable?
Are the materials good quality?
---
We hope that this advice will help you choose the best ski equipment for you. Happy shopping!