Ride from June 30th* to September 2nd!
Enjoy the 150 km of MTB trails of the Tignes and Val d'Isère linked Bike Park with no moderation: the access to the 5 dedicated lifts is OFFERED with your "My Tignes OPEN" activity card!**

TIGNES MTB LIFTS
Palafour chairlift
Tufs chairlift
Tovière gondola (access to Val d'Isère)
VAL D'ISERE MTB LIFTS
Olympique cable car
Borsat chairlift
* The Bike Park opening will depend on the snow cover and the weather conditions.
Check this page before coming to be sure it will be open during your stay.
************************
Refer to the "Practical info" to check the dates and opening hours of each lift.
**New in 2018: a "My Tignes OPEN" activity card is compulsory to access the Bike Park. More information: click here.
A TRAIL FOR EVERYONE
NEW IN 2018:
New downhill trail of 6 km "Fast Wood", Val d'Isère area. For a real adrenaline shot !
Just like the ski pistes in winter, downhill trails show different levels of difficulties. Never tried downhill? Green trails are perfect for beginners accompanied by an instructor. Already had a go at DH? Think blue trails to improve your skills. Mad about MTB? Have fun on the red trails. Expert? Fill up with adrenaline on the black and double black trails!
GREEN: beginners (an instructor is recommended: green MTB trails are very different from green ski runs)
BLUE: improver
RED: advanced
BLACK: expert
DOUBLE BLACK: elite
So discover all our trails, perfect for biking in french Alps !
All mountain (AM) (ex. enduro):
All mountain trails go mainly down but can feature some portions going uphill and are quite technical. Best for experienced riders!
Both cross-country tracks feature ascents and descents as well as flat portions. For tough riders!
Click here to download the 2018 Bike Park map.

OPENING
These year, snow conditions were exceptional but thanks to the Bike Patrol and many volunteers who worked hard to melt the snow, some trails are going to open. Thank you to all of them!
Tignes & Val d'Isère link : Open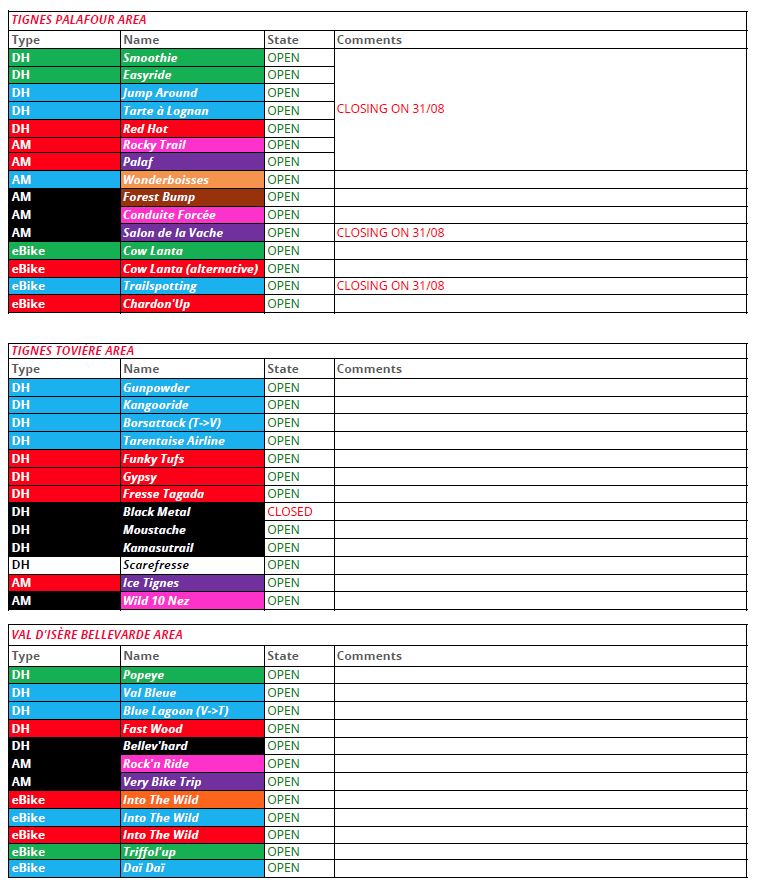 SAFETY INFORMATION
All MTB trails (even those dedicated to beginners) ask for:
- A specific equipment (MTB designed for downhill, all mountain or cross-country)
- Specific body protections: helmets are compulsory and other body protections highly recommended (for your bakc, knees, elbows, hands etc.)
- Basic knowledge in mountain biking, that you can learn from an instructor who will remind you the ABC of MTB before getting you to discover the trails of the Bike Park (green, then blue etc.).
BIKE LAND & PUMP TRACK: GIVE IT A GOOD START
KONA, kenny & CONTINENTAL : PARTNERS OF THE TIGNES VAL D'ISÈRE BIKE PARK
SAFETY INFORMATION